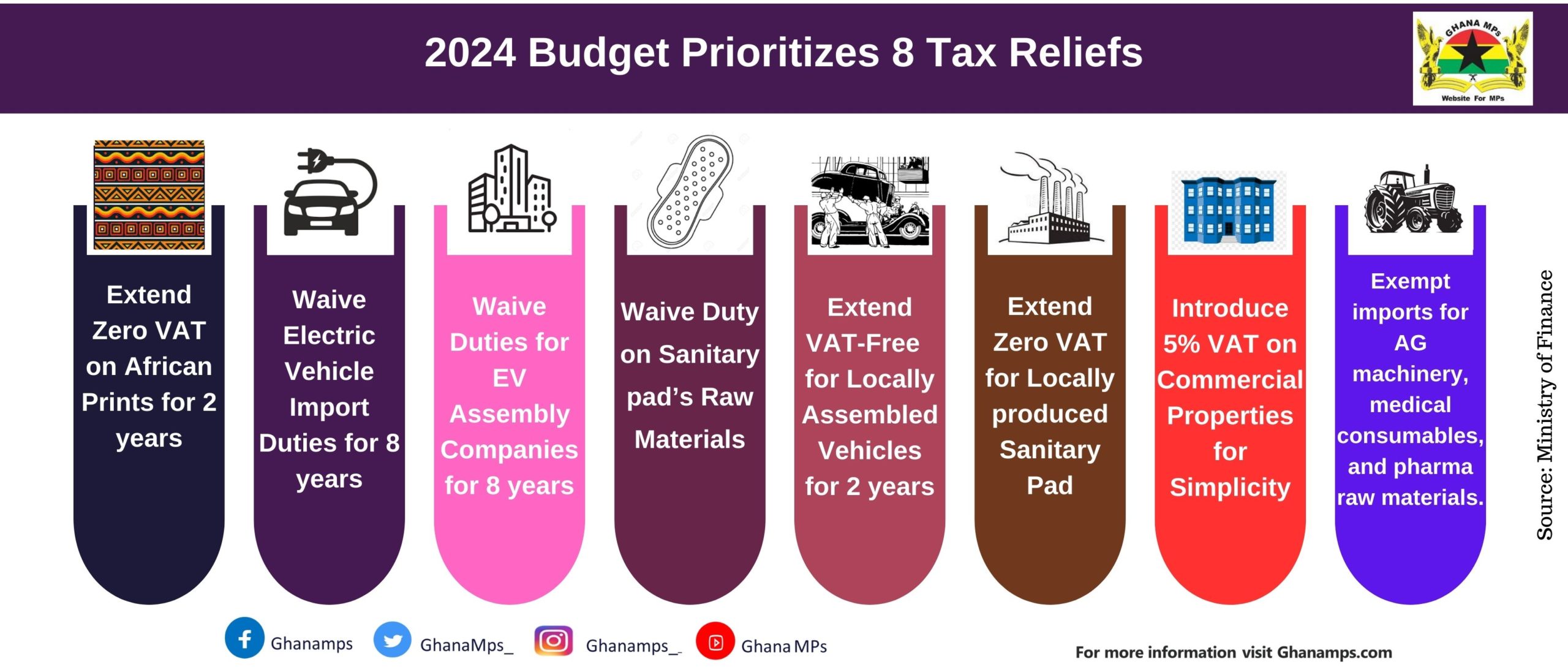 November 20, 2023
In a landmark move aimed at achieving fiscal consolidation, macro-economic stability, and robust growth, Finance Minister Ken Ofori-Atta presented the government's 2024 Budget, aptly named 'Nkunim' (victory), to Parliament last Wednesday. The comprehensive fiscal plan outlines a series of strategic measures intended to provide relief to the private sector and uplift the nation amid expenditure pressures.
During the budget presentation, Minister Ofori-Atta highlighted key initiatives designed to cushion the citizenry and stimulate economic vitality. The diverse range of measures spans from supporting local industries to promoting sustainable transportation solutions. Below is the complete list of initiatives unveiled in the 'Nkunim' Budget:
Extension of Zero VAT on Locally Manufactured African Prints:

The government has committed to extending the zero rate of Value Added Tax (VAT) on locally manufactured African prints for an additional two years. This move aims to bolster the local textile industry.

Waiver of Import Duties on Electric Vehicles for Public Transportation:

Import duties on electric vehicles designated for public transportation will be waived for a substantial period of eight years, encouraging the adoption of eco-friendly transport alternatives.

Import Duty Waivers on Semi-Knocked Down and Completely Knocked Down Electric Vehicles:

Registered Electric Vehicle (EV) assembly companies in Ghana will benefit from an eight-year waiver on import duties for semi-knocked down and completely knocked down electric vehicles. This initiative seeks to promote local EV assembly.

Extension of Zero VAT on Locally Assembled Vehicles:

The zero rate of VAT on locally assembled vehicles will be extended for an additional two years, providing continued support to the local automotive industry.

Zero VAT on Locally Produced Sanitary Pads:

A significant measure to enhance accessibility, VAT will be eliminated on sanitary pads manufactured within the country, ensuring affordability for consumers.

Import Duty Waivers for Raw Materials for Local Sanitary Pad Manufacturing:

Raw material import duties for the local manufacture of sanitary pads will be waived, reducing production costs and supporting the domestic production of essential hygiene products.

Exemptions on Importation of Agricultural Machinery, Medical Consumables, and Pharmaceutical Raw Materials:

Import duties will be exempted for crucial items such as agricultural machinery, medical consumables, and raw materials for the pharmaceutical industry, contributing to growth in these sectors.

Introduction of a 5% VAT Flat Rate on Commercial Properties:

To streamline administration and potentially reduce the tax burden on businesses, a new 5% VAT flat rate will replace the existing 15% standard VAT rate on all commercial properties.
The unveiling of the 'Nkunim' Budget reflects the government's commitment to fostering economic resilience, supporting local industries, and ensuring sustainable development for the benefit of the citizenry.
Shang Annang Papa Nii/Ghanamps.com