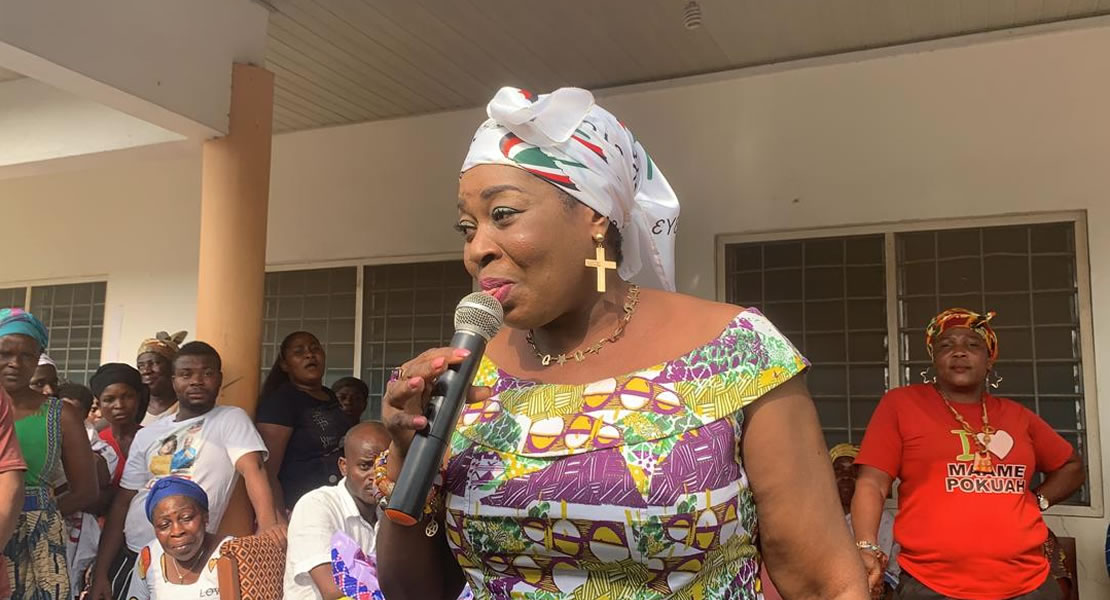 January 14, 2017
The honorable Member of Parliament for Agona East in the Central region, Mrs. Queenstar Pokua Sawyerr has commissioned a community centre she built for the chiefs and people of Fawomanye community in the area.
Speaking at the event, Hon Maame Pokuah who is popularly known as Obatampa cataloged the several achievements by the previous NDC government for the community under former President Mahama.
The MP assured the people of her commitment to help provide similar facility for the rest of the communities within the constituency.
Already, some fifteen communities have also been identified to benefit fromthe MPs generosity.
According to her, it was God's plan and for good reason that Mahama loses the last election for the people to appreciate his good works.
Mrs Queenstar Pokuah Sawyer cautioned leaders and members of the NDC  to avoid repeating the 'mistakes' the party made during the 2016 general elections which includes their failure to vote during the last election due to anger for not befitting from the party and deceit by the then opposition, the NPP which has so far been a disappointment .
"As we inaugurate this Community Centre today, let me use this forum to urge all of you here, especially the NDC members, not to make that mistake again. If you did not vote or you voted for the NPP at the last election, do not make such mistake, as you can see, since they (NPP)  came to power have you heard of any development project?
"The road from Kwayarko to Agona Swedru that we  (NDC) started will be there, they will not do anything on it,  till NDC and Mahama comes back  and "IshaAllahu,' if John Mahama comes back that road will be completed," she stated.
The MP who was the former Deputy Central Regional Minister therefore called on all to unite as the party restructure for a comeback to right the wrongs of the NPP government.
She assured the Chiefs and people of Fawomanye of her unrelenting commitment to their needs at all times whiles urging them to continue supporting her to deliver.
Obatampa was full of praise for the people who helped to erect the structure, which she noted will provide a convenient environment for social events.
The project was funded through personal resources of the MP.
Nana Sekyi Annan IV, Chief of the Fawomanye community thanked the MP for coming to their aid.
The gesture he noted would provide a congenial environmentfor meetings and other social gatherings and assured of proper maintenance of the facility to last long.
Residents of Fawomanye commended the MP for her kind gesture and continues strive to develop the area.
They described her as an honest and hard working woman who cares for her children.
By Christian Kpesese/ ghanamps.com