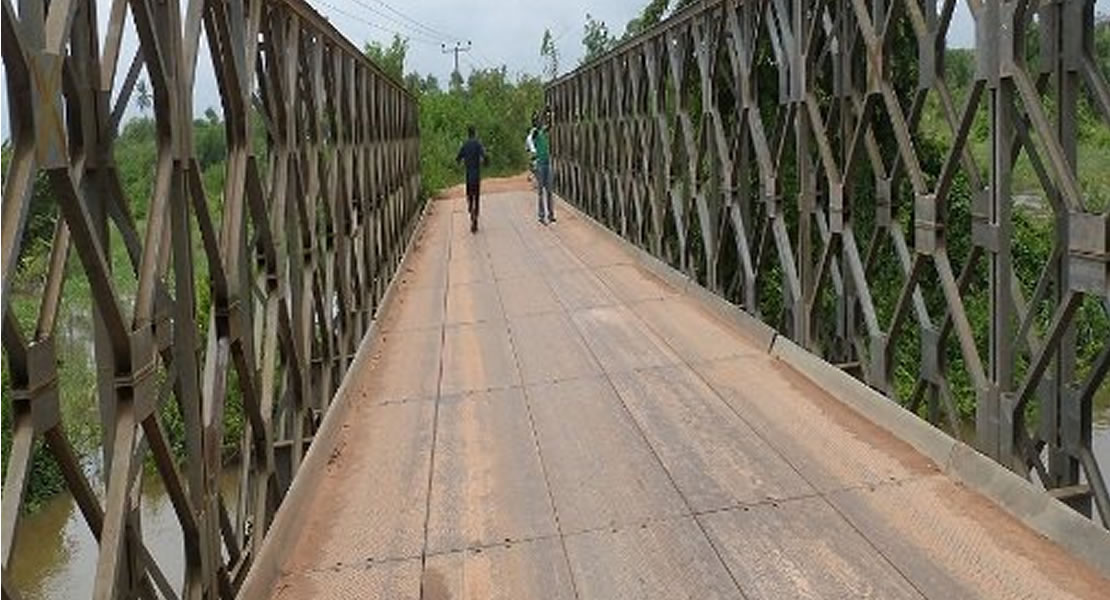 January 18, 2011
The Member of Parliament for Akim Oda, Yaw Owusu Boateng, has called on the inhabitants of Akim Oda and surrounding villages to bear and cooperate with the Ghana Highway Authority as the Birim Bridge is closed for rehabilitation.
The bridge which links cocoa producing areas of the Ashanti and Eastern Regions has developed serious defects, posing danger to life and property.Residents claim the bridge has not undergone any major maintenance since its construction about 50 years ago.
Though two concrete pillars have been erected on each end to restrict heavy duty trucks from using the bridge, articulated and timber truck drivers have however defied the measure and continue to squeeze their vehicles in between the pillars.
The structure sits on solid concrete pillars and is supported overhead by a canopy of metal bars which put the entire bridge in a balance and support it across the river.
The Ghana Highway Authority had earlier told residents of the Birim Central Municipality in the Eastern Region and other road users of the inconvenience they would have to endure as the Bridge is closed.
In spite of the caution given by the Ghana Highway Authority, residents of Ayirebi, Nkwanta, Abenase, New Edubiase and Gyadam, among others, complained bitterly that the closure of the bridge will affect transportation especially of farm produce to market centers and also make them pay more in fares by using long and winding alternative routes.
Speaking to ghanamps.gov.gh, the Member of Parliament for Akim Oda, Yaw Owusu Boateng stated that he was at pains to understand why the very people for whose comfort and safety the bridge is being repaired will turn round and complain that much.
"We will not sit down and watch unconcerned for this rickety bridge to claim the lives of innocent persons, the best measure is what we have taken, they should remain calm as the bridge is being worked on", he said.
Officials say the bridge will partially be closed to traffic on weekdays, from 10 am each and be completely shut down on Sundays to allow for smooth execution of work beginning this week.
Story by : Kwadwo Anim