June 28, 2018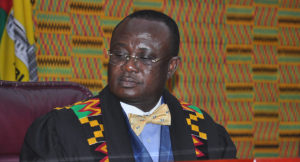 First Deputy Speaker of Parliament, Joseph Osei Owusu, has said the media is to be blame for the pressure Ghanaians exert on Members of Parliament (MPs) as developmental agents.
According to the Bekwai legislator, Ghanaians take whatever the electronic media especially say as the gospel truth, and further added that the media knows the truth but fails to explain to Ghanaians MPs are not development agents.
He also added that, sometimes opponents of MPs use the media to cause the problem of making MPs development agents, instead of sticking to what the constitution says that "we are lawmakers", he lamented.
Mr. Joseph Osei-Owusu pointed out that when he gets back to his constituency and wants the views of his constituent of a topical issue being discussed in Parliament, not a single soul would come out to offer any.
He made this remarks at a civil society event in Parliament called the crystal ball series, which looks at the workings of Parliament and points out their strength and weakness.
The event pointed out that in the first session of the seventh Parliament attendance was good, but in the second session attendance was very poor.
"If you are to choose between Parliamentary work and what happens in the constituency, let us be realistic one would chose the constituency work", the first Deputy Speaker said.
"Expectation in the constituency and the legislature do not match; when you see a bad road or a hospital that is not working, all they say is what is the MP doing?"
A good example is when a Bishop was given a podium to preach in another church, when he got the opportunity what he said was, driving here to preach I ask myself, "do we have an MP in this constituency".
By: Kwaku Sakyi-Danso/ghanamps.com