October 28, 2019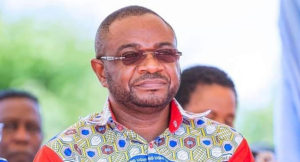 The Minority on the Youth and Sports Committee of parliament has congratulated the new President of the Ghana Football Association Kurt E. S Okraku for his election as President.
According to the Minority on the committee it is their hope that the elections ends any internal wrangling and marks the new rebirth of a united football family under one great leadership of football in Ghana.
In a statement issued by the ranking member of the committee, Kobena Mensah Woyome noted that with a united Ghana football, Ghanaians would be the ultimate beneficiary.
He further pointed out in the statement that the Minority members of the committee looks forward to working with the new President supporting and guiding him to ensure that Ghana football moves beyond its current predicament.
At the extra ordinary congress on Friday October 25, 2019 the football people had spoken emphatically and elected their president, for the association after three rounds of voting.
After months of internal clean-up under the supervision of a FIFA appointed Normalization Committee, the football people have spoken, he said.
Kwaku Sakyi-Danso/ghanamps.com