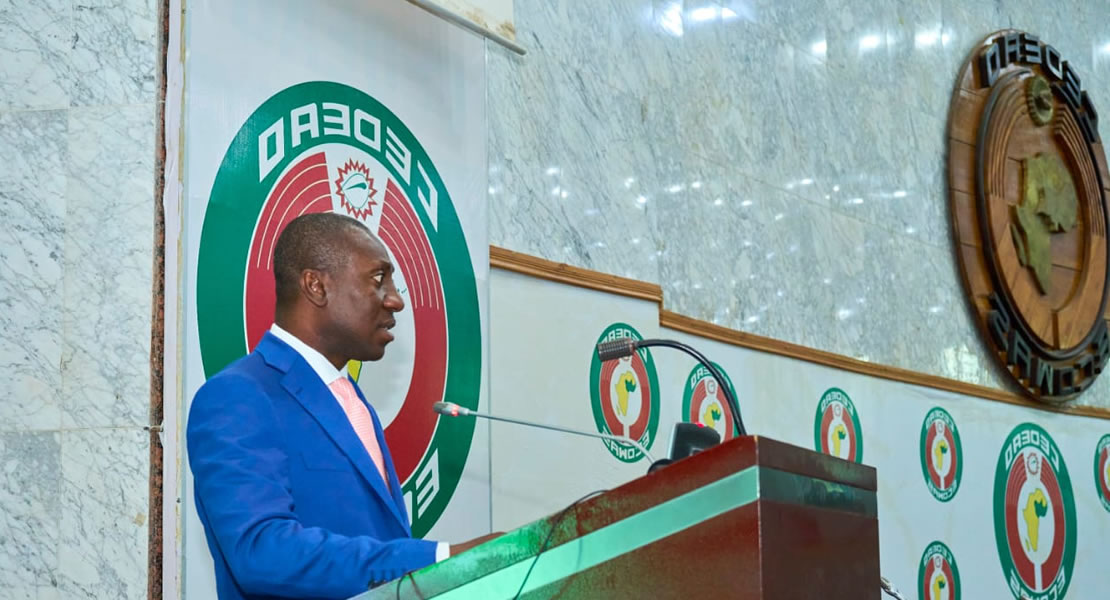 May 13, 2023
Leader of Ghana's delegation to the Community Parliament, Alexander Kwamena Afenyo Markin presenting Ghana's country report at the ongoing 2023 first Ordinary Session of the Economic Community of West African States (ECOWAS) Parliament in Abuja Nigeria noted that Ghana's security situation remains relatively calm; but asserts that the country is ready to deal with any such security threats.
He was however quick to point out to the plenary that there are some factors that pose security threat to the country's stability in the past months which include land and chieftaincy disputes, threats of terrorism and violent extremism.
However, the government of Ghana and the security sector has therefore instituted measures to mitigate these threats which have culminated in safeguarding the peace and stability of the country.
 Chieftaincy Disputes and Ethnic Conflicts
 Ghana recorded a number of land and chieftaincy disputes characterised by tension resulting in violent clashes between feuding factions particularly in Northern part of the country, and some coastal areas.
The Government of Ghana, through State Security Agencies and some eminent personalities continually engage factions in the various disputes to effectively address the conflicts.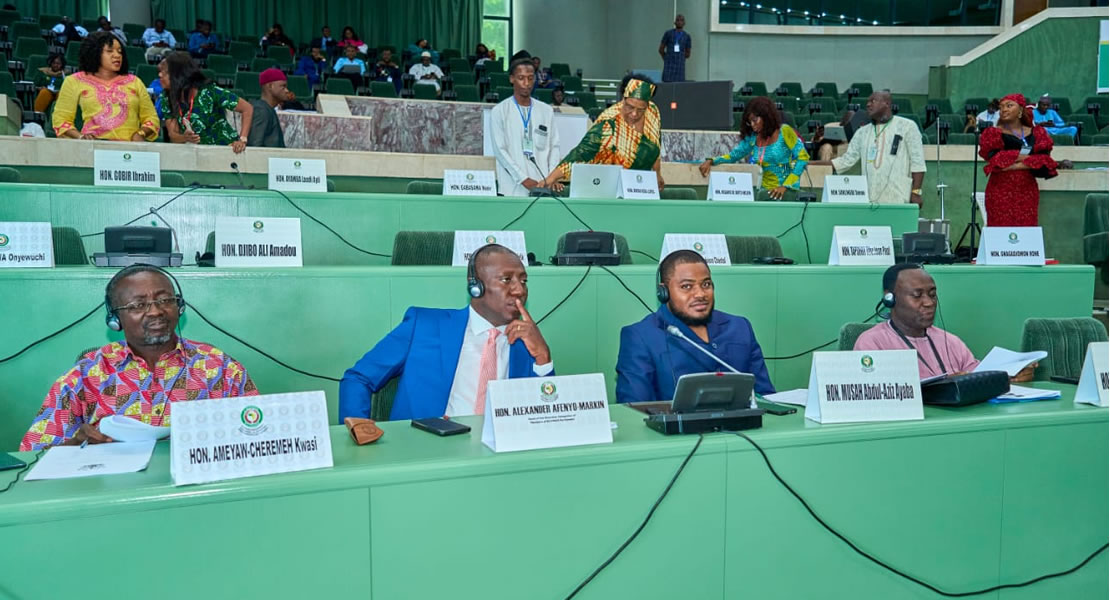 Terrorism and Violent Extremism
The continuous spread of terrorism from the Sahel region to coastal West African States remains a concern to Ghana. More worrying is the deteriorating security situation in countries proximal to Ghana, underscoring the need to enhance efforts to bolster the country's counter-terrorism and counter-extremism measures.
While the Government continues to employ kinetic measures, efforts are being made to address factors such as economic hardship, injustice, and tribal conflicts which could be exploited by terrorists to infiltrate Ghana.
Indeed, a study conducted by Al-Azhar Observatory for Combating Extremism (AOCE), a research group based in Cairo, has identified the combined impact of COVID-19 pandemic, Russia's invasion of Ukraine and food crisis as major drivers for the recruitment of African youth into terrorist organizations, particularly in Burkina Faso, Mali, Nigeria, Somalia, and Central African Republic.
The Government of Ghana, through the Ministry of National Security, continues to adopt the following measures aimed at effectively dealing with the threats of terrorism:
Intensification of ongoing counter-terrorism operations along the various frontiers of the country in line with the National Framework for Preventing and Countering Terrorism and Violent Extremism
Adoption of the 'soft options' approach by expediting development and providing employment for the youth, particularly, in vulnerable areas likely to be targeted by terrorists.
Political and Socioeconomic Developments
Leader of the Ghanaian delegation pointed out that the year 2023 began with  a generally calm political situation. After successfully electing their leadership, the major political parties have rolled out the roadmap toward electing Parliamentary and Presidential Candidates ahead of Ghana's 2024 general elections.
As expected of political campaigns, there have been isolated incidents of tensions between incumbents and new aspirants in some constituencies. The swift intervention of the security agencies has ensured that peace in such communities is safeguarded.
Again like other member states Ghana has not been spared from the adverse economic impact of the Russia-Ukrainian conflict and the aftershock of the COVID-19 pandemic.
The Government of Ghana, in its attempt to salvage the situation, has undergone a largely successful Domestic Debt Restructuring Programme and implemented new economic policies which include the introduction of three new revenue bills (Income Tax Amendment Bill, Excise Duty Amendment Bill and Sustainability Amendment Bill), to mobilize revenue to further curtail the dire effect of the aforesaid developments on the economy,  and also help in securing a three billion dollar (USD 3billion) loan facility from the International Monetary Fund (IMF).
 The introduction of the new Bills generated public uproar through social and mainstream media. The government, through various media platforms, succeeded in engaging the citizenry on the need for the introduction of the new taxes.
Ghana's success in mitigating both internal and external threats can be attributed to the effective collaboration among all State Security and Intelligence Agencies, and the harmony in the coordination of their activities through the Ministry of National Security.
The Government of Ghana is committed to maintaining the status quo to enhance a conducive democratic environment that promises true development for the citizenry.
Inhuman Prison Conditions
Conditions in Ghana's prisons such as overcrowding and the deplorable state continue to be a major human rights concern.
 As of April 2023, inmate population stood at 15,164 as against the authorised prison population of 10,265. The overcrowding rate stood at 47.73%. Medium security prisons were reported to have much higher overcrowding rate than the lower-security prisons. The overcrowding situation often leads to the spread of communicable diseases, infections, and contamination.
As part of measures to address the overcrowding situation, the Justice for All Programme (JFAP) was instituted by the Ministry of Justice and Attorney General's Department in 2007 to help promote access to justice and the speedy trial of cases of remand prisoners.
 This intervention is supported by Pro Bono Lawyers providing legal representation for remand prisoners during mobile and in-prison special courtsessions and has over the years resolved many remand prison cases. Specifically, the JFAP has contributed to the reduction of the remand prison population from 33% in 2007 to 12% in 2022.
Despite this, the prison population remains high. CHRAJ has been collaborating with POS Foundation and other stakeholders to advocate for the passage of the Non-Custodial Sentencing Billto provide alternative sentencing, other than a prison term for persons who commit minor or petty offences. Also, CHRAJ in collaboration with the Commonwealth Human Rights Initiative and the Open Society Initiative for West Africa has been advocating for the Declassification/Decriminalisation of Minor/Petty Offences Bill and for a review and amendment of the Criminal Offences Act by Parliament.
The provision of adequate meals for inmates is another major challenge. Three-square meals per each prisoner have been set at GH¢1.80 Ghana cedis (0.60 pesewas per meal), which is woefully inadequate. As a way of remedying this situation, the Prison Service has undertaken farming activities at the prisons to supplement the dietary needs of prisoners. Pretrial detainees on the other hand, are not provided with food.
PROTOCOL RELATING TO THE COMMUNITY LEVY 
As of March 2023, Ghana had honoured its financial commitments to the ECOWAS Commission as specified below:
 Month (2023)                                     Payment (Units of Accounts)
January                                                            29,764,364.36
February                                                          28,753,285.76
March                                                             35,427,756.91
Total                                                             357,079,592.04
Month (2022)                                     Payment (Units of Accounts)
May                                                                 29,522,441.31
June                                                                 28,712,301.91
July                                                                  28,613,450.64
August                                                 35,244,397.52
September                                                       32,195,983.12
October                                                           31,877,839.20
November                                                       41,887,598.95
December                                                        35,080,172.3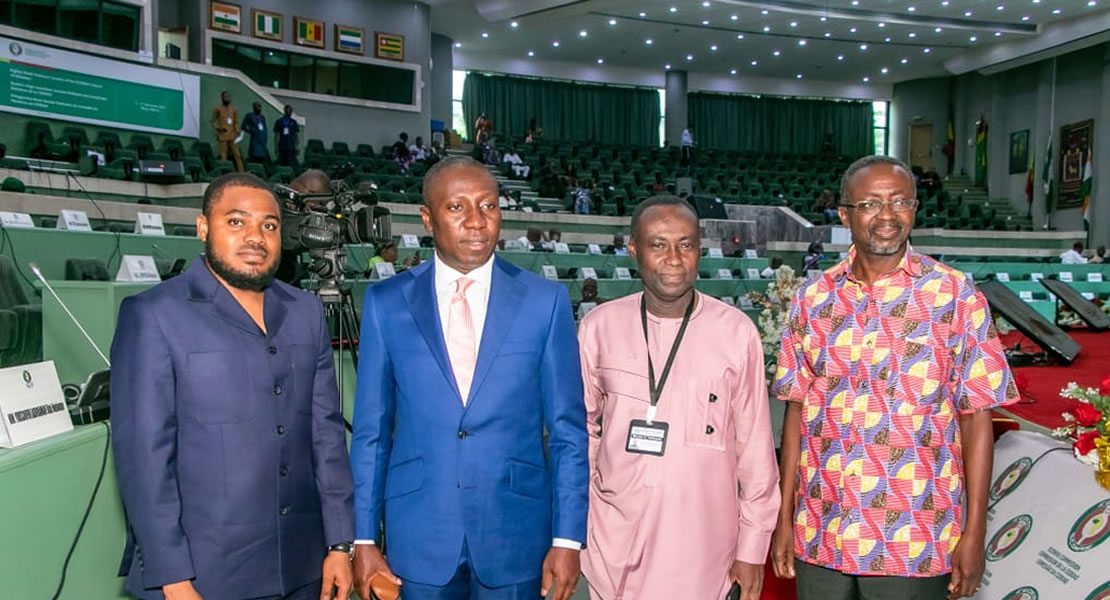 Protocol on free movement of persons and goods
The ECOWAS Treaty of 1975 stipulates in article 2(2) and article 27 the Free Movement of Persons, Right of Residence and Establishment.  Sub paragraph (d) of article 2(2) of the ECOWAS Treaty calls on Member States to ensure the abolition of obstacles to Free Movement of Persons, Services and Capital.  Paragraph 1 of Article 27 confers the status of community citizenship on the citizens of Member States and enjoins Member States to abolish all obstacles to freedom of movement and residence within the community.
The Ghana Immigration Service,as one of the leading institutions tasked with the responsibility of implementing the Free Movement Protocols is working hard to ensure the smooth implementation of the ECOWAS Protocols on free movement of persons, right of entry, residence and establishment.
Right of Entry
The Ghana Immigration Service (GIS) in recognition of the (ECOWAS) Protocols on free movement ensures that Community citizens are accorded the needed courtesies at the various points of entry and exit. For instance, special booths are allocated to ECOWAS Citizens to facilitate their movement at the various Immigration controls.
The Ghana Immigration Service has established a Migration Information Bureau (MIB) that is officially mandated to sensitize the general public on the dangers of illegal migration, and encourage legal means of migration. GIS has developed Standard Operating Procedures (SOPs) to ensure compliance.
The GIS also ensures that all officers comply with the code of ethics of the Service, as well as the ECOWAS Protocols onFree Movement of Persons, by paying attention to the rights and privileges of community citizens.
Community Citizens with Dual Nationality
ECOWAS nationals with additional nationality donot require visas to enter Ghana, once they travel with both passports. For instance, aSenegalese with American passport does not requirea visa to come to Ghana so far as he/she can produce his/her Senegalese passport (ECOWAS passport) and decide to enter with it. Prior to this, a community citizen with dual nationality required a visa to enter Ghana.
Collaboration with Border Agencies
The Ghana Immigration Service cooperates and collaborates with other agencies and stakeholders and neighbouring border security agencies at the frontiers in the implementation of the Protocols on Free Movement of ECOWAS citizens. This is done through the sharing of information and joint training and patrols. GIS is currently part of the West Africa Police Information System (WAPIS).
Joint Border Post
The Ghana Immigration Service with support of development partners has established a joint border post with Togo at Akanu/Noepe to improve cooperation and facilitate the free movement of persons, services and capital. However,the Post is not fully functional due to lack of resources. It will be expedient for the ECOWAS Commission to have a second look at the facility and make it operational.
Ghana now opens and operates most of its frontiers on a twenty- four (24) hour basis to ensure free movement of community citizens.
Right to Residence and Establishment
An ECOWAS citizen who establishes a business in Ghana, only needs to satisfy immigration requirements and apply for work/residence permit, unlike other nationals who are required to apply for work /residence permit to operate.
Community citizens are issued with permits, which attract administrative fees. For instance, students permit for community citizens studying in Ghana, residence permits for businesses and dependent permits for community citizens who are married to Ghanaians.
Community citizens who take up employment with companies and institutions also secure their permits through their employers.
However, there has been anamendment to the protocol A/P. 1/5/79 relating to free movement of persons, residence and establishment, that sought to abolish
The 90-day stay limit granted to community members.
The residence and work permit requirements for community members.
The inclusion of ECOWAS Biometric National Card as Travel Document.
It is important to indicate that Member States are not enforcing these amendments.
Kwaku Sakyi-Danso/Ghanamps.com