June 21, 2018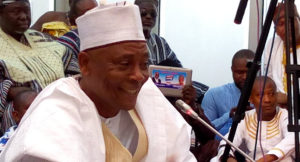 Minister of Inner-city and Zongo Development, Boniface Saddique Abu-Bakar said the Ministry is undertaking a nationwide needs assessment in various Zongo communities to determine their priority developmental needs, for appropriate interventions.
According to the Minister so far four hundred and seventy-nine (479) Zongos in five regions have been visited; Brong Ahafo, Eastern, Central, Upper West and East Regions and Nangodi Zongo Community.
He noted that discussions were held with opinion leaders in the Upper East Region, as it emerged the three priority developmental needs of the people were, boreholes, Neem Oil extraction factory and English and Arabic Basic school.
The Ministry would asses these needs and determine with the involvement of the Nangodi Zongo Community, which of the projects would have the highest impact and therefore prioritize for implementation in the 2018 to 2019 fiscal year, he said.
He indicated that the second phase of need assessment would cover Greater Accra, Ashanti Western, Volta and the Northern Regions.
"Mr. Speaker, I wish to inform you that the President in May this year appointed the Chief Executive of the Zongo Development Fund and his two deputies. And on the 11th of this month inaugurated an eleven member Governing Board of the Zongo Development fund."
He added that with the Board in place, work is expected to proceed in earnest in providing solutions to the myriad of challenges facing the Zongo Communities.
Dr. Mark Kurt Nawaane Member of Parliament for Nabdam, wanted to know projects to be undertaken in Nangodi Zongo in the Nabdam District for the year 2018.
By: Kwaku Sakyi-Danso/ghanamps.com