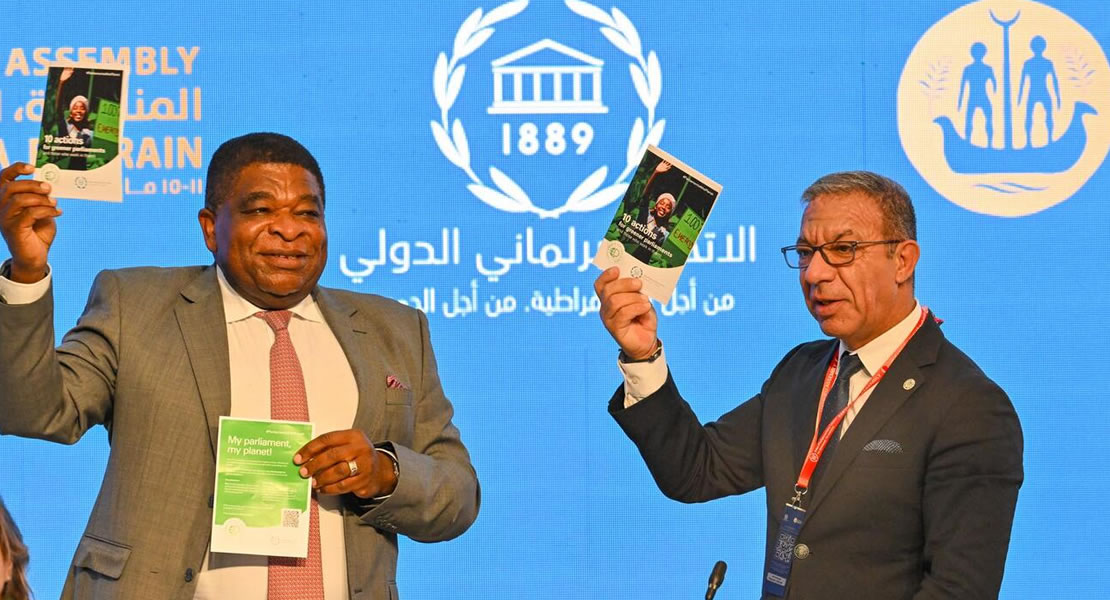 March 17, 2023
Inter Parliamentary Union (IPU) has launched a new campaign – Parliaments for the Planet, designed to mobilize parliaments and parliamentarians to act on the climate emergency.
The campaign will encourage parliaments and those who work in them to lead by example, reduce their own carbon footprint and take concrete measures to implement the Paris Agreement on climate to limit global warming to 1.5 degrees Celsius.
The campaign consists of two parts. Part one encourages parliaments and parliamentarians themselves to become greener and decarbonize. To support them, the IPU has published a guide: 10 Actions for Greener Parliaments (and those who work in them).
The 10 actions include measures to make parliamentary work more sustainable, by, for example, tracking the emissions of the parliament itself and setting targets to reduce them; switching to renewable energy; implementing green procurement practices; and embracing digitalization.
Parliamentarians are encouraged to become climate champions by raising awareness among their constituents and working across party lines to accelerate green policies both within and outside parliament.
Part two of the campaign is designed to empower parliaments and parliamentarians to produce effective legislation on climate change, vote in the necessary budgets and scrutinize government action, especially progress on the Nationally Determined Contributions (NDCs) to implement the Paris Agreement.
The NDCs set out the efforts being made by each country to reduce national emissions and adapt to the impact of climate change.
The campaign will encourage parliaments to engage more closely with the processes of the UN Framework Convention on Climate Change, especially in the lead-up to COP28 in the United Arab Emirates in December 2023.
In parallel with the campaign, the IPU will serve as a platform to share good parliamentary practice on climate action by highlighting initiatives that parliaments and parliamentarians are taking to become greener, as well as examples of effective legislation.
Over 3,000 examples of climate laws and policies have already been gathered together in the climate change laws of the world database, produced by the London School of Economics' Grantham Research Institute in partnership with the IPU.
The IPU works closely with UN organizations and technical partners to ensure parliamentarians have access to the latest scientific knowledge and solutions concerning climate change. The campaign is also supported by the Julie Ann Wrigley Global Futures Laboratory at Arizona State University.
To link in with the campaign, the 2023 Cremer-Passy Prize will be awarded to an MP or group of MPs who have made an outstanding contribution to climate action. The Prize is named after the IPU founders William Randall Cremer and Frédéric Passy, visionary parliamentarians from Great Britain and France, who convened the first meeting of the IPU in Paris in 1889.
The campaign was launched at the 146th IPU Assembly 146th IPU in Manama, Bahrain in front of hundreds of parliamentarians from some 130 countries.
Ghanamps.com/IPU