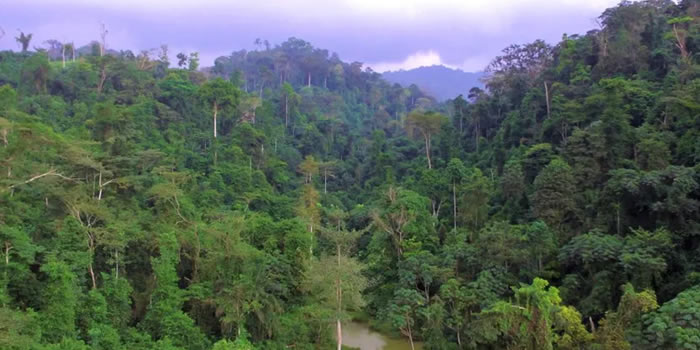 October 18, 2011
The Ministry of Lands and Natural Resources, in conjunction with its sector agencies has adopted measures to restore degraded lands and forests.
Mr Mike Hammah, Minister of Lands and Natural Resources, announced this at the Celebration of the International year of Forests at Awutu Bewuenum in the Awutu Senya District of the Central Region.
The Minister said the area's natural resources would be protected through good forest governance and the implementation of a voluntary partnership agreement between the Government and the European Union.
Additionally, he said, only legally produced wood products could be exported to the EU market or sold locally.
Representatives from about 23 countries across the world participated in the event.
They included South Africa, Mali, Nigeria, Kenya, Switzerland, Namibia, Togo, Angola, Burkina Faso and Germany.
Mr Hammah and the President of Building and Wood Workers International, Mr Klause Wiesehugei, jointly unveiled a plaque to commemorate the day.
Mr Hammah, who is also the Member of Parliament for Effutu, said the Ministry would revise the current forest and wildlife policy of 1994 to lay more emphasis on the non-consumptive value of the forest.
He said the Ministry was increasing ecotourism development through public-private partnership (PPP), biodiversity conservation and ecosystems services.
The Ministry, he said, was developing schemes to promote participatory resource management and exploring the possibility of importing logs from other countries to increase the raw material supplies to the wood industry.
He added that the Ministry was also developing mechanisms to mitigate the impacts of Climate Change and explore options to attract carbon financing.
Mr Hammah said the Ministry was deepening relationship with stakeholders including District Assemblies, Chiefs, and land owners in order to stop land degradation and deforestation.
The Minister appealed to the Building and Woodworkers International and its affiliate bodies and the media to assist in creating awareness on the environment and the need to protect and sustain it.
Mr Alex Bonney, Chairman of Timber and Woodworkers Union of the Ghana Trades Union Congress, urged Ghanaians to take proper care of the land and forests to avoid disasters and desertification.
Mr Ernest Nkansah-Kwarteng, Winneba District Manager of the Forestry Commission, appealed to financial institutions, corporate bodies and the Ghana Tourists Board to help the Commission in its efforts to develop the five ecotourism sites in the District.
GNA