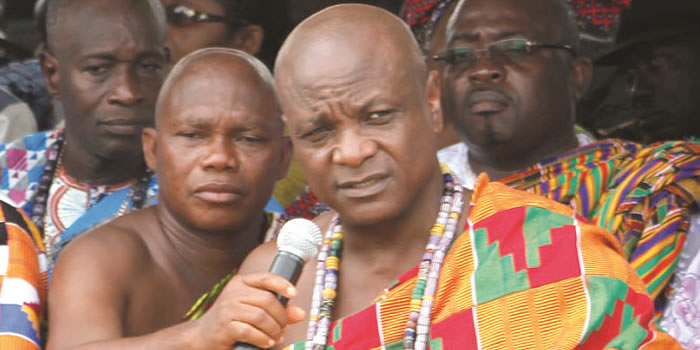 May 25, 2012
The Member of Parliament for Akyem Oda, Yaw Owusu Boateng, has called for restraint among the two factions wrestling for the Akyem Oda Paramount stool.
The factions, Attafuah and Frimpong Manso families have been engaged in the protracted chieftaincy dispute of the town over who rightly should occupy the stool.
Matters got out of control when both sides fired gunshots over the weekend when the Paramount Chief, Oseadeeyo Frimpong Mnaso IV, being challenged by the Attafuah faction, arrived to perform this month's Akwasidae.
Since the Omanhene. Frimpong Manso was gazzetted in March last year, the Attafyuah group has been battling him in court, asking the court to reverse his gazzetting and consequently disqualify him as the Omanhene
Speaking to ghanamps.gov.gh, Hon. Yaw Owusu Boateng who sounded very disturbed about the development appealed for calm in the area and called on the appropriate authorities who are vested with the power of enstooling a chief for the area to find a peaceful way of resolving the dispute which has lasted several decades.
"We need a chief who can command the respect of all the people of Akyem Abuakwa there is no way development of the area could be ensured if there was no peace'' he added.
Calm has since returned to the Akyem Oda area with the police on standby to ensure.
Kwadwo Anim/Ghanamps.gov.gh