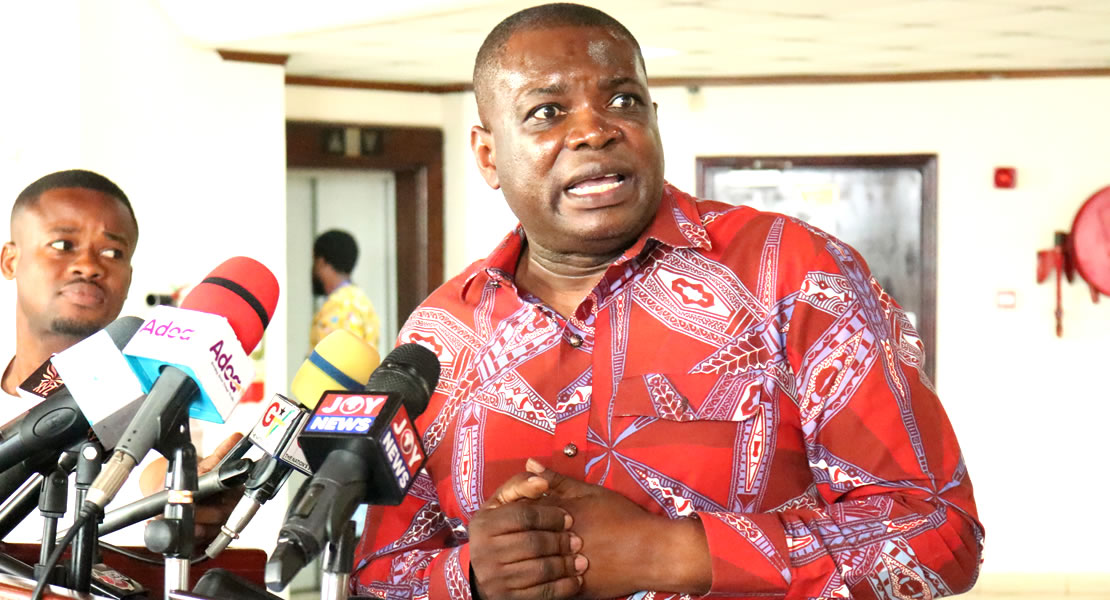 Hon Kwame Agbodza,
July 15, 2022
Mr Kwame Agbodza, the Member of Parliament for Adaklu, has accused the bosses of the National Identification Authority (NIA), and the Chairperson of the Electoral Commission (EC), Jean Mensah of doing the bidding of the governing New Patriotic Party (NPP). Mr Agbodza in a spirited rebuttal to Mr. Annoh Dompreh, the Majority Chief Whip's call for the Minority not to demonize the NIA and to be measured in their criticism of the institution said their questions to the NIA are justified and aimed at helping the NIA to serve the people better.
Mr. Agbodza said though he agreed that we should have a Ghana Card, but trying to make it compulsory for every transaction is problematic. "Today somebody is lying at the hospital, he is sick, he needs access to his money to buy drugs, a draconian declaration that if you don't have Ghana Card you can't have access to your money; this is a mindless way of doing things. It is better we get angry and correct things now", he asserted.
He said the NPP deliberately does not want NIA to have the resources to register illegible people; "this government has gotten money to pay 200 million Ghana cedis to dig a hole beside parliament to call it a cathedral, building of a cathedral and having a peaceful election which one is more important to Ghana?"
He accused the government of recruiting its party members into the NIA to achieve an agenda for its parochial interest. "The recruitment of the NIA was done through the party" and states that in the Adaklu District, the NIA district director was initially the constituency youth organizer of the NPP, "currently we're told is the brother of a youth organizer from Asuogyaman District in the Eastern Region".
According to him, in the 2021 census result from Adaklu, there are about 38,000 people captured with about 25,000 people being fifteen years and above, and are eligible to be registered under the NIA. But so far only about 3,200 have been registered; "so Jean Mensah is trying to tell me that whenever she does her register only 3,200 people in Adaklu would qualify to vote? He queried.
He said it is time somebody calls Jean Mensah to order, because she is dragging this country to chaos. "We have the opportunity to call her to order; "I'm saying that my brother the Majority Chief Whip says that we're trying to create a bad blood between or demonize NIA. No, it is not the fault of NIA. In fact much of the NIA staff are NPP card bearing members , so if somebody is demonizing anything which is the action we're taking, is to make sure that this deliberate action by the NPP is corrected.
"You cannot register only about 3,000 people in Adaklu, and even out of that about 1000 people haven't gotten their card yet". He disclosed that there are places in Adaklu that one cannot generate digital address, yet the NIA is demanding that to register for the Ghana Card the person should bring digital address; "are they supposed to conjure it? He queried. He said the NIA card cannot be the only basis for this exercise yet, "because majority of people have been denied."
He noted that he had a situation where he had to bus people from Adaklu to Adaklu Waya to go and register for the Ghana Card, and even that many of those who registered still don't have their cards. He also queried if there is anybody in this country who doesn't know that the NIA, the boss and everybody there are doing the bidding of the NPP, "they say it the way it is". Who doesn't know that Jean Mensah is an appendage of the NPP?" "Well we can pretend that we don't know what is going on".
He bemoaned the GHC250 being charged for registering for the Ghana Card in Accra for those who can afford it; stating that that amount is out of reach for his people in Adaklu, and lament that it is not as if Ghana cannot procure the card and make it easy for people to register, "it is deliberately made such that ordinary people can't register and NPP would be in control of who actually gets registered so that if they say that the new voter registration is only for people who have now attained age 18 and above, it would only be their people that would register".
The NIA was in parliament on Thursday, July 14, 2022 to brief the House and the minority raised a lot of issues concerning the operations of institution. But the Majority Chief Whip thought the actions of the Minority amount to demonizing the NIA and called for constructive criticism since the NIA has come a long way, and remains an important institution to the state.
Dominic Shirimori/Ghanamps.com