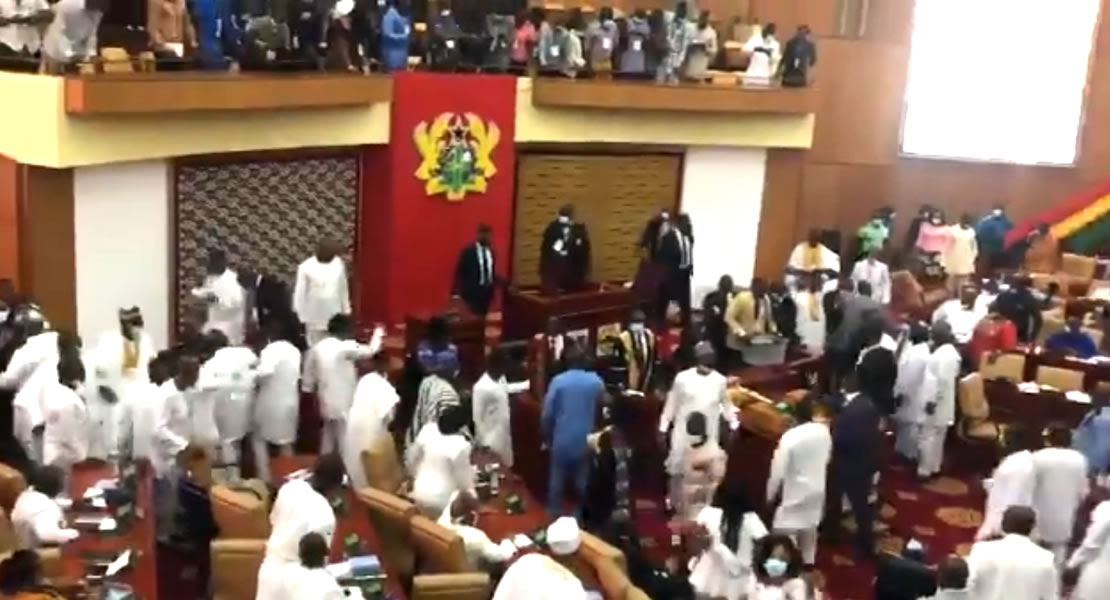 December 21, 2021
The parliament of Ghana has witnessed yet another physical confrontations resulting in abrupt temporarily stop to proceedings in the House.
A decision by the first Deputy Speaker, Joseph Osei Owusu to have himself counted during a "division" angered the Minority MPs who reminded him that that was inappropriate and not in line with the rule of  law.
But the Speaker went on to have himself accounted.
Just when he resumed his seat, the Minority reminder him to leave the seat. Sensing the anger of the Minority, the first Deputy Speaker announced for the Second Deputy Speaker to takeover proceedings. But that was not to be as the Minority MPs vowed and prevented him from resuming the seat.
This led to some physical struggles between the two groups, with some even exchanging blows.
The standoff took well over an hour before calm returned.
The House was considering the Electronic Transaction Levy (E-Levy) under the certificate of urgency: but the process was challenged by a member from the Minority, Mahama Ayariga.
 The Second Deputy Speaker who was in the chair at the time ruled against the objection and continued to take a voice note on whether or not the Bill should be taken on the certificate of urgency.
His ruling for the "Yes have it" was challenged by the Minority Chief Whip, Mohammed Muntaka who called for division.
Unfortunately, the Second Deputy Speaker could not proceed with the division, instead suspended the House for sometime only for the First deputy Speaker to take over.
Ghanamps.com