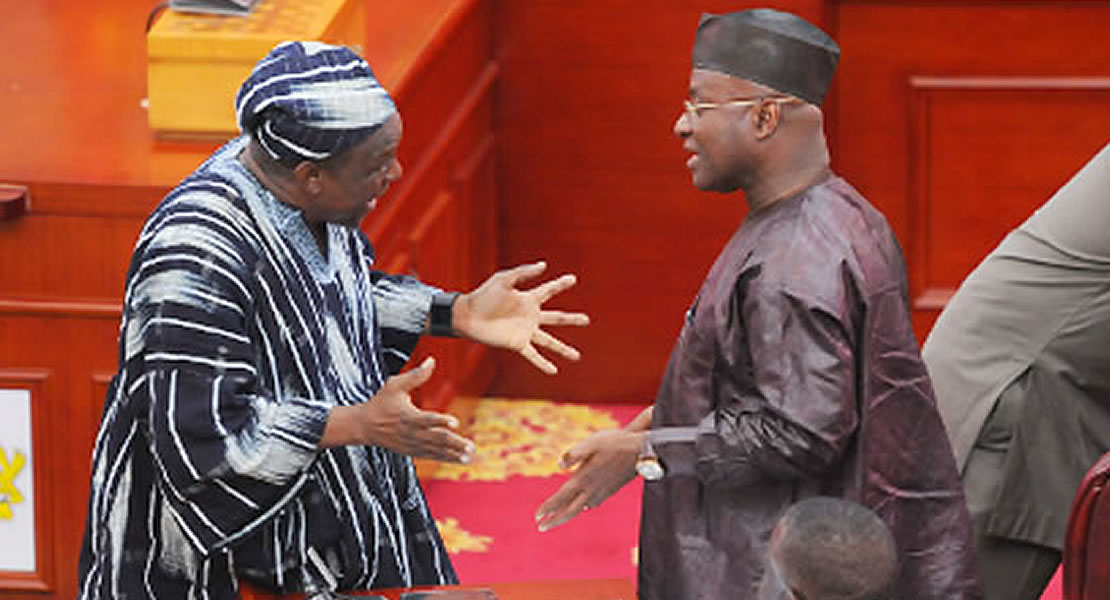 Rt. Hon Speaker left and Majority Leader right
December 23, 2021
Majority Leader Osei-Kyei-Mensah-Bonsu has revealed that, the Rt. Hon Speaker of Parliament, Alban Sumana Kingsford Bagbin demanded for an amount of One Billion, Seven Hundred and Two Million Ghana Cedis (Gh1.72 billion) before allowing the 2022 economic policy of government to be approved.
He said, on the day of the budget presentation by the finance minister, the Speaker of Parliament in a leadership meeting together with the finance minister, openly demanded Gh1.72 billion cedis from the finance minister, Ken Ofori-Atta to allocate such huge sums of money to the Parliament of Ghana in the 2022 budget else he, the Speaker would make sure that, the budget is rejected just as the father of Mr. Ken Ofori-Atta engineered for Dr. Hilla Liman's budget to be rejected.
He queried if all the drama surrounding the 2022 Budget Statement and Economic Policy was in fulfillment to the Speaker's earlier threat to the Finance Minister.
Mr. Osei-Kyei further urged the general public and Ghanaians to disregard the information in being circulation that, he, the majority leader told the Rt. Hon Speaker to leave Parliament, and go home last Monday when the House was about to work on the E-Levy Bill.
"Such, information is false I never had such discussion or encounter with the Speaker Rt. Hon Alban Kingsford Sumana Bagbin"
He made these submissions in a press conference held on Thursday, December 23, 2021 in Parliament, when he engaged the Parliament Press Corps to explain circumstances leading to the unfortunate chaos which happened in Parliament this week Monday.
Ghanamps.com