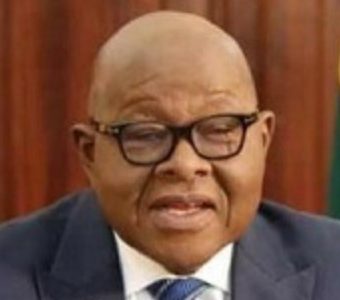 Aaron Michael Oquaye – (Jan 2017 – Jan 2021)
Prof. Mike Aarone  Oquaye was born on the 4th of April, 1944 to Mr. E.G.N Oquaye of Osu, Accra and Mrs. Felicia Awuseke Oquaye (nee Azu) of Odumase Krobo.
He attended the Catholic and Presbyterian Secondary School, Odumase Krobo for his Ordinary Level and Apam Secondary School for his Advanced Level, then the University of Ghana, University of London and Lincoln's Inn, London.
He holds a B.A Hons, LLB Hons, BL and Phd. His working life has been mainly a combination of private legal practice, lecturing in Political Science, doing active politics and pastoral work. A Barrister of the Supreme Court of England and Wales, he is also a senior member of the Ghana Bar Association.
As an academic, Prof, Aaron Michael Oquaye achieved this singular distinction of winning within four years, the coveted International Rockefeller Senior Scholar Award in 1993. He was head of the Department of Political Science, University of Ghana, Legon, from October 1999 to January, 2002.
He was the Vice President of the African President of the African Association of Political Science head quartered in Zimbabwe. He was the Vice President between 1997 and 1999.
He has researched and written extensively on good governance, conflict, political education, decentralization, development, human rights, military intervention in politics, non-governmental organizations, rural development and gender issues.
He is one man who has regularly featured in conferences on gender in this country. His book and articles have been published in Ghana, England, Canada, United States of America, South Africa and Zimbabwe.
Prof. Aarone Michael Oquaye's rich experience in African politics has been tapped by many institutions in Ghana and abroad. He is an acclaimed diplomat, legislator and politician. He served as Ghana's High Commissioner to India from 2002 to 2004. He was a Member of Parliament for Dome-Kwabenya between 2005 and 2013; Minister for Energy, 2005 to 2006; Minister for Communications, 2006 to 2007; Second Deputy Speaker of the Parliament of Ghana, 2009 to 2013.
His tenure as High Commissioner to India was a period of achievement s unprecedented in Indo-Ghana relations. In Parliament, Prof. Oquaye took keen interest in Legislation and meticulous endeavors indebt minute slips. He made brilliant statement and various comments and contributions rich in depth.
Committees he served include the Committee on Most Holding Office of Profit, the State Orders Committee, the Committee of Defence and Interior, Committee on Government and Committee Communication.
As a Baptist Pastor, Prof. Oquaye married to Mrs. Alberta Oquaye Asafo-Adjei, a former Major in the Armed Forces and his hobbies include soccer, table tennis, reading, writing and music.