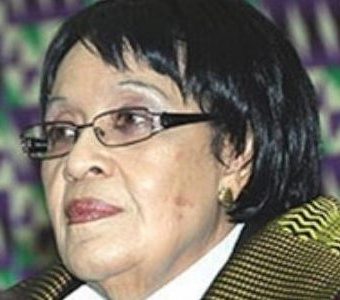 Joyce Adeline Bamford-Addo – (Jan 2009 – Jan 2013)
Her Lordship Justice Adeline Bamford-Addo, was born on the 26th day of March, 1937. She had her early education at the OLA Boarding and Government Girls Schools in Cape Coast and had her secondary school at Holy Child in Cape Coast.
After that, she proceeded to London where she had the opportunity to study law and was called to the Inner Temple, London, in 1961. From 1061 to 1963 she practiced law in London and proceeded to Ghana, where she was appointed as the Assistant State Attorney on the 27th day of December, 1963.
She went through the ladder until the 21st January, 1986, when she was appointed the Director of Public Prosecutions. After dint of hard work, she got noticed and elevated to the Supreme Court where she served as a Supreme Court Judge between 1991 and 2004.
While going through the mill, she had the opportunity to serve in various offices and capacities. She was a member of the Ghana Law Reform Commission, the Legal Aid Board and Ghana's representative to the United Nations Commission on the Status of Women. She also served in the Judicial Council as a member of the Deputy Speaker at the Consultative Assembly in 1992 and also represented Ghana at numerous conferences during the course of this public service.
In 1983, she represented Ghana at the Conference on the Status of Women which took place in Tunis. She was also at the Commonwealth Law Ministers Conference in Sri Lanka in 1983.
She was at the Quadripartite Ministerial Meeting in Lome, 1984, the Law Ministers Conference which took place in Harare, Zimbabwe in July, 1984, the Law Conference in ECHO RICE, Jamaica in September, 1986, the United Nations African Regional Preparatory Conference on Crime Prevention and Treatment of Offenders in June, 1989 which took place in Addis Ababa.
She was also at the 34th United Nations Session on the Commission on the Status of Women in Vienna, Austria, in 1990, and the Commonwealth Conference on Senior Law Ministers' Conference in Auckland, New Zealand , in 1990; 35th United Nations Session on the Commission on the Status of Women in February 1991 and the Commonwealth African D.P.P.S Conference in Banjul, the Gambia, also in 1991.
Justice Bamford-Addo attended the 10th Anniversary Conference of the Society for the Reform of Criminal Law in London in 1997, and the International Society for the Reform of Criminal Law, the 12th International Conference in Barbados in 1998. She was elected as "Woman of the Year 2000" by the American Biographical Institute.
She retired from public service in October, 2004 after 43 years as a practicing Lawyer and 13 years as a Judge of the Supreme Court of Ghana.