October 28, 2019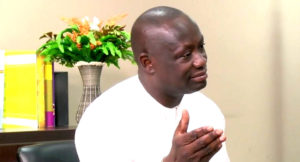 Former Minister of Petroleum and Member of Parliament for Elembelle, Kofi Armah Buah has served notice that he would place an injunction on the impeding referendum on December 17th 2019, on whether Metropolitan, Municipal and District Chief Executives (MMDCEs) should be elected or not.
According to the Elembelle lawmaker if the Electoral Commission headed by Jean Mensah does not address challenges the electoral registrations exercise has brought about in the Western Region, he will head to court.
"We had about six thousand three hundred people registering in my constituency, but when the register was opened in June for Ghanaians to verify their names about five thousand names were not in the register".
Mr. Emmanuel Armah Kofi Buah said there has been several demonstrations and formal petition written to the District Electoral Commission no avail.
He further lamented over the cumbersome nature his people had to go through before registering as some had to wake up as early as 2:00am to line up to register after the exercise, but in September when the EC opened the register for people to verify their names, the people could not find their names.
"If it were only Elembelle District maybe it might not be too much of a problem to address, there are a lot of districts outside Ellembelle"; he sounded worried in an interview with Journalists in Parliament House.
According to him, they got the District Electoral Officer just to understand what is going on,  "he told me they put all the information in a flash drive sent it to Accra", but the EC's answer in Accra when we checked was 'go and register again'.
The EC does not care, it has gone ahead to announce a day December 17th 2019 for the referendum, what happens to almost half a million Ghanaians who have been disenfranchised?
As to what he wants from the EC, he said the EC has not explained itself about the incident and Ghanaians should be worried about that.
"How can people have their voters ID and the EC cannot explain why their names are not on the exhibition list?"
He further told journalists in Parliament that on Friday he raised the issue with the Speaker of Parliament for the EC chair to come to Parliament to explain issues of the challenges that has arisen.
"If that is not addressed, the EC does not have any business conducting any elections in this country, you guys should see how much money has gone into the exercise and for that to happen in the absence of any explanation and their attitude so far, it looks more deliberate", he lamented.
"I cannot make this issue up it's a serious", he emphasized.
Kwaku Sakyi-Danso/ghanadistricts.com